GMP级细胞因子&活性蛋白
Proteintech已通过ISO13485认证,GMP标准车间及流程生产:
原材料的鉴定、记录和可追溯性

定期检查和确认洁净厂房和仪器

经过验证的工艺和标准化操作程序
明确的标准和过程检验规范(IPQC)

系统和有组织的人员培训计划

偏差管理及纠正和预防措施(CAPA)
GMP Products Why Choose HumanKine Cytokines & Growth Factors
Protein is expressed in stable HEK293 systems with optimized yields.
Safety, efficacy, and lot to lot consistency for therapeutic manufacturing.
Robust scalability from preclinical to clinical and commercial quantities.
Seamless transition from research to GMP grade.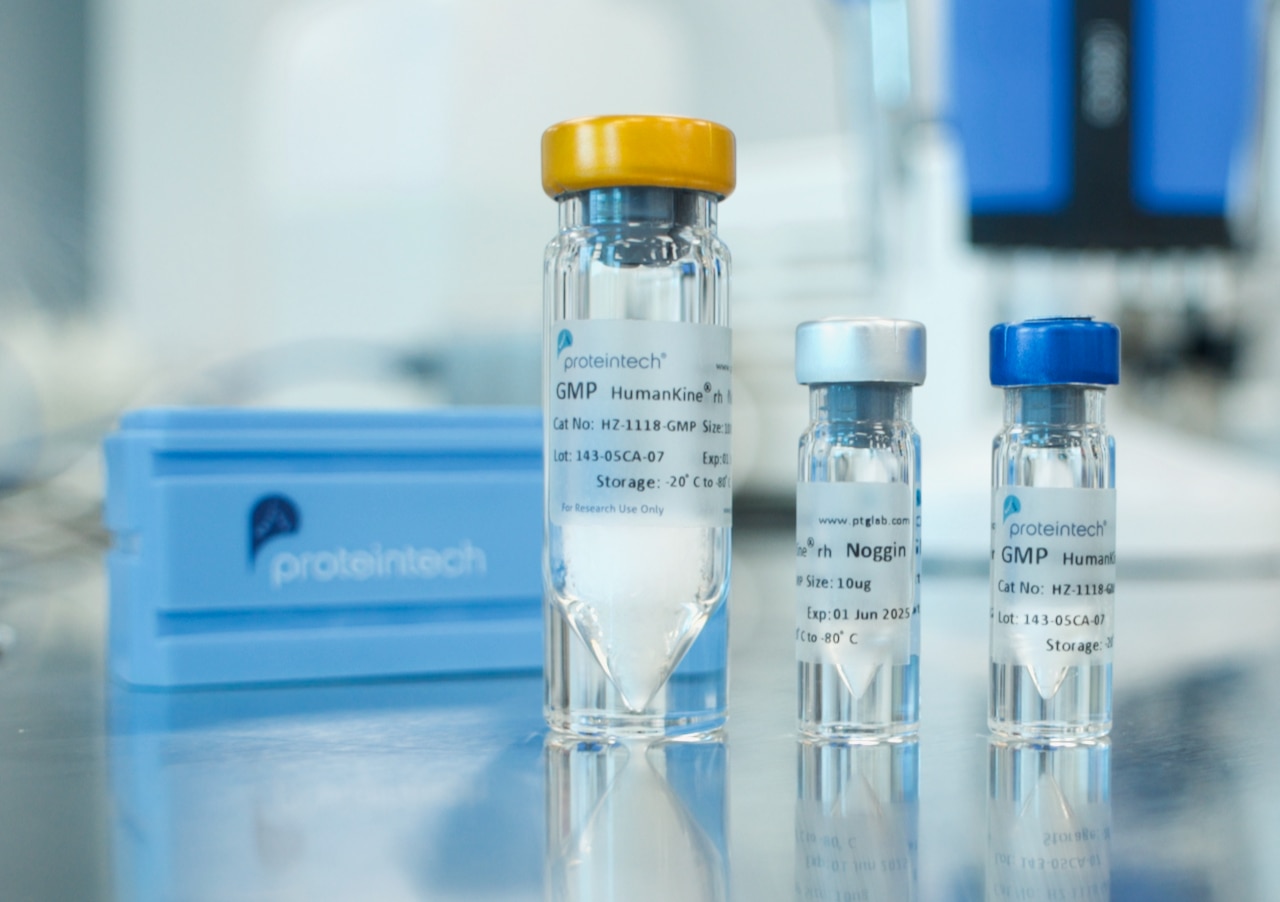 cGMP Grade Cytokines and Growth Factors
All HumanKine cytokines and growth factors are expressed in HEK293 cells.
GMP Quality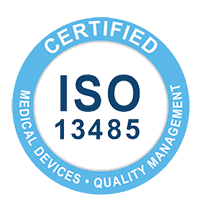 Proteintech is ISO 13485:2016 certified and our GMP HumanKine products are manufactured and tested in accordance with the relevant sections of the following standards:
USP Chapter <1043>, Ancillary Materials for Cell, Gene, and Tissue-Engineered Products
USP Chapter <92>, Growth Factors and Cytokines Used in Cell Therapy Manufacturing
Ph. Eur. General Chapter 5.2.12, Raw Materials of Biological Origin for the Production of Cell-based and Gene Therapy Medicinal Products
Sterility testing according to USP <71>.
Mycoplasma testing according to USP<63>.
Bacterial endotoxin test according to USP<85>85>.
GMP manufacturing process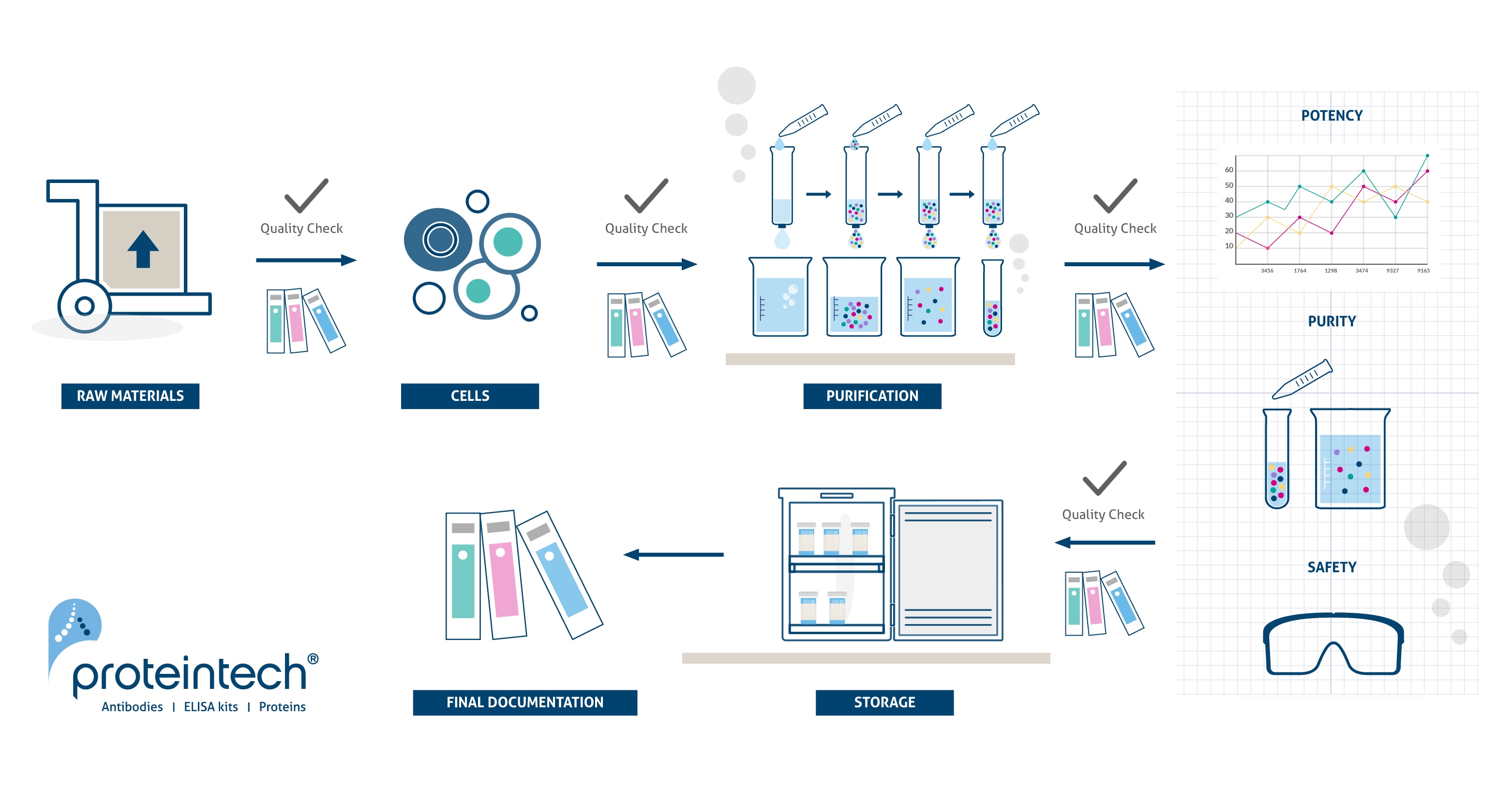 RUO vs GMP
To facilitate a seamless preclinical to clinical transition, we offer both RUO and GMP grade cytokines and growth factors. Both product grades are produced under the same conditions in a GMP facility, using identical production processes. The GMP grade products come with extensive documentation, as well as thorough QC testing and traceability, whereas our line of RUO grade products are more cost-effective during early research and development.
Quality Features

RUO

GMP

Quality Management System: Manufactured, tested, released & distributed under ISO 13485
✔
✔
Adherence to GMP guidelines
✘
✔
Master cell bank fully characterized
✔
✔
All processes according to released SOPs
✔
✔
Batch documentation
✔
✔
Change control, OOS and deviation procedures
✔
✔
Production and QC equipment qualified
✔
✔
Process validation by 3 consistency batches
✘
✔
Purity
> 95%
> 95%
Sterility testing USP<71>
✘
✔
Mycoplasma testing USP<63>
✘
✔
Endotoxin testing USP<85>
< 1.0 EU/µg
< 0.1 EU/µg
Validation of shelf life by accelerated and real-time testing
✔
✔
Identity of product confirmed
Two methods
Two methods
Supplier and raw material control
✔
✔
Activity value on CoA
EC50
EC50 and specific activity
(if NIBSC standard available)
Regulatory support: DMF, on-site audits, change notifications, quality agreements etc.
✘
✔
(In progress)
View all HumanKine products
View all GMP HumanKine products
Animal component and Xeno free
Driven by the desire for improved product consistency and safety of our products, we follow a strict Animal component-free (ACF) and Xeno-free policy. This policy ensures:
The final product does not contain any constituent that is either an animal tissue, body fluid or components derived from it.
All the materials, from procurement to final products, are stored and handled in a dedicated animal-free facility.
The final product do not contain materials from non- human animal sources or recombinant materials made from non-human animal sources.
GMP Lot-to-lot Consistency
Consistency in raw material features is critical for efficient manufacturing of cell based therapies. A well-defined manufacturing process of HumanKine growth factors ensures high lot -to-lot consistency in its identity, purity and bioactivity.
GMP BMP-4 (HZ-1045-GMP)

Figure 1: Three independent lots of GMP BMP-4 were tested for their ability to induce alkaline phosphatase production in ATDC5 (mouse chondrogenic) cells. The EC50 for this assay is 1.5-9 ng/mL. The activity of each lot is nearly identical. Each lot was also analyzed for purity on an SDS-polyacrylamide gel under reducing and non-reducing conditions.
GMP PDGFbb (HZ-1308-GMP)

Figure 2: Three independent lots of GMP PDGFbb were tested for their ability to induce the proliferation of NIH/3T3 (mouse fibroblasts) cells. The EC50 for this assay is 0.3-3.0 ng/mL. The activity of each lot is nearly identical. Each lot was also analyzed for purity on an SDS-polyacrylamide gel. This data demonstrates the lot-to-lot consistency of this protein.
FAQs
How are HumanKine GMP cytokines different from the RUO cytokines?
GMP proteins come with extensive documentation for traceability, as well as additional quality control testing and quality assurance reviews, whereas the RUO grade line offers reliable products which are more cost-effective during early research and development. As the manufacturing process is the same for RUO and GMP products, HumanKine offers a seamless preclinical-to-clinical transition line of products, saving a significant amount of time and money.
Are HumanKine GMP cytokines suitable for direct human administration?
No, HumanKine GMP products are not intended to use as an excipient or therapeutic product that can be directly administered to the human body. These products are developed to be used as raw materials for the manufacturing of cell and gene therapy products, but not as part of the final formulation or therapy.
Is HumanKine GMP product manufacturing certified by FDA or other regulatory agencies?
US-FDA does not audit or certify manufacturing facilities that produce ancillary materials. HumanKine GMP products are manufactured under the ISO13485 quality management system adhering to USP and European pharmacopeia recommendations to ensure potency, purity, and safety. The manufacturing facility can be audited by the end users upon request.
What is the risk classification for HumanKine GMP Cytokines?
HumanKine GMP Cytokines are classified as Tier 2 risk products under USP Chapter <1043>. The products are low-risk, well-characterized materials, produced in compliance with GMP guidelines, and intended to be used as ancillary materials/raw materials.
Are HumanKine GMP cytokines animal component free?
Yes! HumanKine GMP manufacturing processes and the final product do not use or contain any animal or human-derived components.
How are HumanKine GMP cytokines shipped?
HumanKine GMP products are shipped as lyophilized, in glass vials at ambient temperature. The stability of these products is extensively tested to ensure the above-specified shipping conditions do not affect product quality or performance.
Documents
Documents available on request
Certificate of Analysis (COA)
Certificate of origin (COO)
Sterility certificate
BSE/TSE statement
Viral testing certificate for Master cell bank
Drug Master Files- filing in progress.
Proteintech's GMP Facility in Chicago, IL