C9orf72 in FTD and motor neuron disease
IHC evaluation of C9orf72 commercial antibodies in frontotemporal lobar degeneration and motor neuron disease
---
Frontotemporal lobar degeneration (FTD) and amyotrophic lateral sclerosis (ALS) 
Frontotemporal lobar degeneration (FTD) and amyotrophic lateral sclerosis (ALS) are devastating neurodegenerative diseases. FTD is characterized by degeneration of the frontal and temporal lobes of the brain and is the second-most common type of dementia in people younger than 65. ALS affects motor neurons and results in muscle degeneration and, eventually, cessation of breathing.
C9orf72 in FTD and ALS
Decades of research have identified hexanucleotide repeat expansions (HRE) of GGGGCC in C9orf72 as a key genetic cause of ALS and FTD.
To accelerate insight into the mechanism connecting C9orf72 HRE to these neurodegenerative diseases, Proteintech has developed a wide range of mono- (Figure 1) and polyclonal C9orf72 (Figure 2) antibodies, tested by indirect ELISA and Western Blot on unmodified lysates. The high specificity of these products with C9orf72 makes them efficient and powerful tools with low background staining and minimal cross-reactivity with other proteins.
Figure 1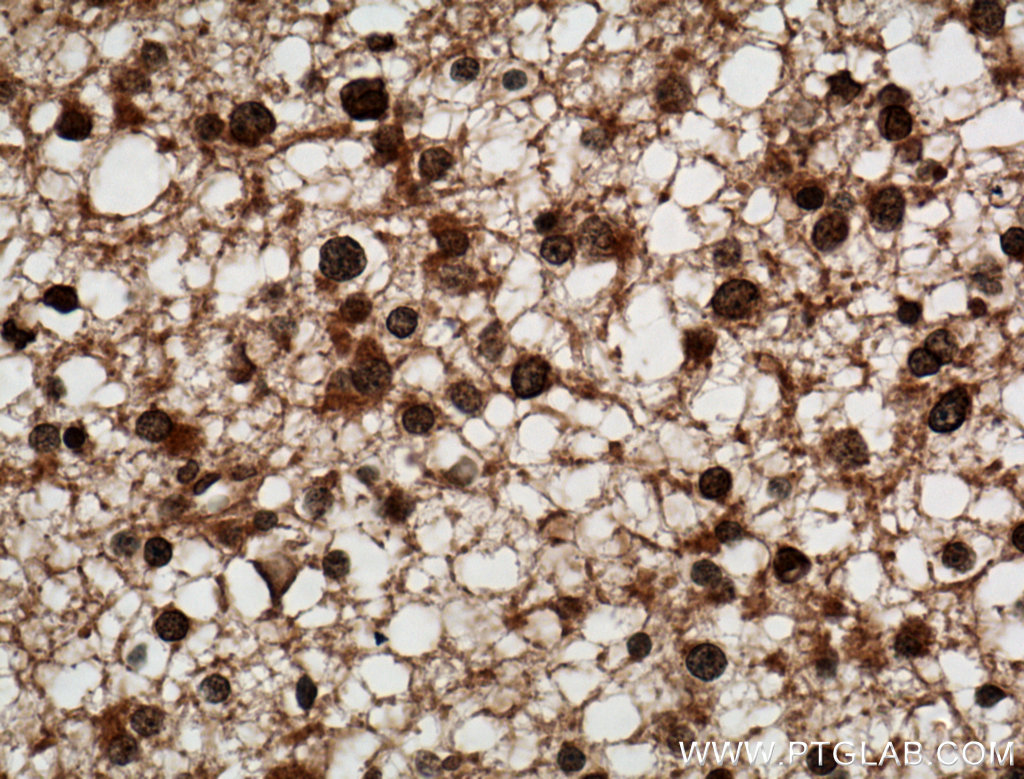 Immunohistochemical analysis of paraffin-embedded human gliomas tissue slide using 66140-1-Ig (C9orf72 antibody) at dilution of 1:1000 (under 40x lens) heat mediated antigen retrieved with Tris-EDTA buffer(pH9).
Figure 2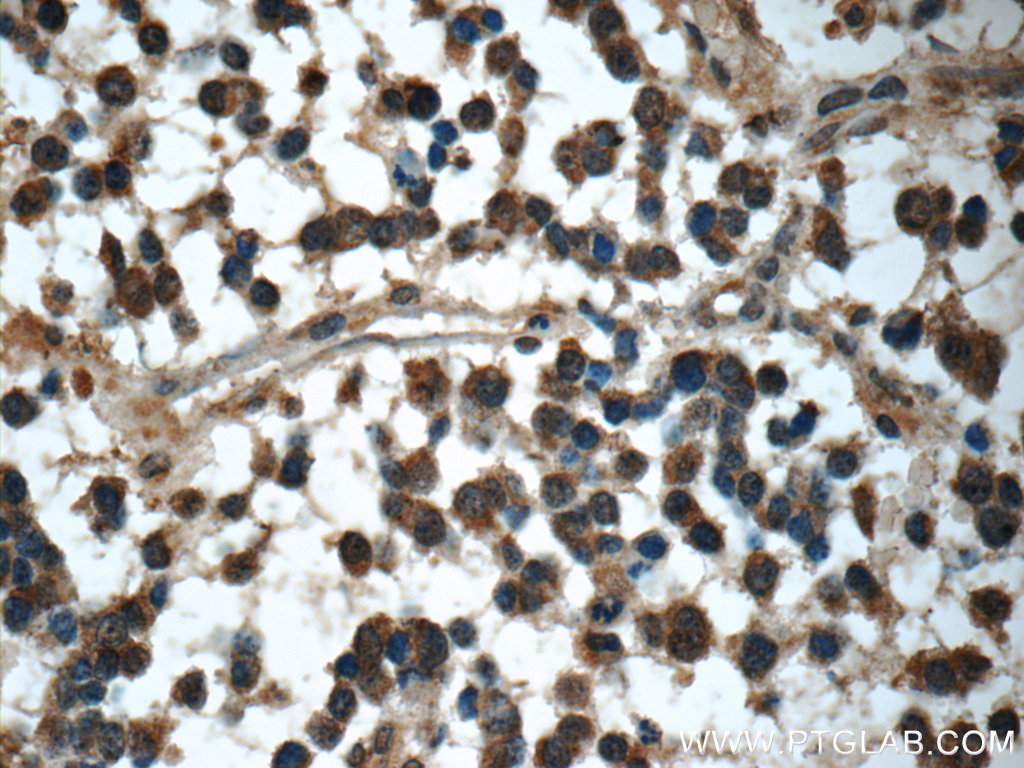 Immunohistochemistry of paraffin-embedded human gliomas tissue slide using 22637-1-AP (C9orf72 antibody) at a dilution of 1:50 (under 40x lens).
Recent studies by Davidson Y et al. have confirmed the high specificity of Proteintech C9orf72 antibodies. The group, under the supervision of Professor David Mann at the University of Manchester, tested commercially available C9orf72 antibodies from several different suppliers, including Proteintech (please find a summary in Table 1).
In their testing of the current commercial C9orf72 antibody landscape, the group demonstrated that our antibodies outperformed the competition and are highly specific for C9orf72 at low concentrations across different cerebellar structures, highlighting their great value for research and diagnostic purposes. The research team also described them as reliable for the detection of the longer form of C9orf72 protein.
Find more details here (Figure 1).
Some researchers claim that C9orf72 HRE may also contribute to Alzheimer's and Huntington's diseases, suggesting that C9orf72 and these antibodies may play an even larger role in neurodegenerative diseases research (1 and 2).
Table 1
Source: Yvonne S. Davidson, Andrew C. Robinson, Sara Rollinson, Stuart Pickering-Brown, Shangxi Xiao, Janice Robertson & David M. A. Mann (2017): Immunohistochemical detection of C9orf72 protein in frontotemporal lobar degeneration and motor neurone disease: patterns of immunostaining and an evaluation of commercial antibodies, Amyotrophic Lateral Sclerosis and Frontotemporal Degeneration. Reprinted by permission of the publisher Taylor & Francis Ltd.
References:
1. C9orf72 Nucleotide Repeat Structures Initiate Molecular Cascades of Disease
2. C9orf72-related disorders: expanding the clinical and genetic spectrum of neurodegenerative diseases.